Your Digital Download will be emailed directly to your inbox.
---
Check out the preview video
EDIT
FASTER

, EDIT

BETTER

, EDIT

MORE
The Video editors tool box was born from the need for an affordable yet premium and complete offering that can be used to enhance video editor's projects.
This product is a game changer, you no longer need to purchase expensive subscriptions or endless asset packs. Included in this pack is everything you need to effectively finesse your videos and speed up your work flow.
By using the elements in this pack I saved myself potential hours of time spent manually recreating these complex effects. This allowed me to lessen my busy work load and take on more clients, ultimately maximizing my earnings. Now is your chance to do the same.
Don't just take my word for it, see for yourself what you could be gaining…
---
Super8mm Overlays & Film Textures
| | |
| --- | --- |
| Film Burns | Grains & Scratches |
| | |
The visual appearance achieved from shooting in film is a highly sought after aesthetic, however using film cameras is also an expensive and time consuming process. With these elements you can achieve the desired effect for a fraction of the price. For added convenience I've provided an array of different options at your finger tips, in both still and video form:
• 5x overscan film borders
• 6x light leak overlays

• 14x light leak stills

• 5x grains / dust & scratches

• Scanned using Authentically Kodak Super8mm stocks (200T & 500T).
We worked closley with industry leading labs to capture these Super 8 elements, speding thousands along the way, aswell as months of back and forth to ensure we provided the best possible offering.
Initially the plan was to create a Super 8 pack, but in the end we decided in order to make this look accessible to as many creatives possible, we would include it in this unmissable bundle.
Light leaks are another increasingly popular effect that occur naturally when shooting on film, you can now easily apply this look to your footage to give it the film aesthetic.
ProTips:
• Why not combine a film border with the film grain to really complete the authentic film look?
• Light leaks can also double up as great transitions!
---
LUTs are the quickest and easiest way to add breathtaking colour to your footage, helping to take a project to a professional level in a matter of seconds.

After researching some of the most iconic cinematic looks, we created a set of custom LUTs that give your video added impact. I find using LUTs in my work really helps me set the desired tone, so we perfected a range of different options for you to see what works best in your project.

Don't worry if you haven't used LUTs in the past, it's super easy.

If you require any help I have a video

tutorial available on YouTube

explaining how to apply them, as well as the other available elements in the pack.

LUT .cube files are the industry standard and are compatible with the majority of video editing software.
---
This pack was designed to be used by creatives of all skill levels from complete beginners to the seasoned professionals.
Edit your title screens directly within Adobe Premiere pro and with a few clicks of a button you are ready to go.

If you use different video editing software, don't worry, you can also easily edit in Adobe Photoshop and use with your preferred editing programme.

Optimised for Adobe Photoshop CC+ and Premiere pro CC 2019+

Tutorial available on YouTube explaining how toinstall and customize the title screens.

All fonts used in this pack are available via Adobe Fonts.
Gain access to a variety of professional title screens, created by an experienced graphic designer, without the associated high costs of hiring one yourself.

Simply edit your chosen title screen and you have a professional level opening screen for your next video without the big design bill!

Designed to suit any project and all skill levels. Level up your next project today!
---
Authentic VHS texture clips perfect for recreating the VHS look in seconds.

All files were captured from authentic VHS and Hi8 Tapes and professionally upcaled to 1440x1080px.

A section of elements were streamed through medical grade CRT monitors, captured in 4k and scaled to authentic VHS dimensions.
---
A series of professionally designed cinematic icons and borders that can be used across still & video projects.

Instantly transform your footage with these professional extra touches, enhancing the look and feel of your project.
---
A variety of meticulously hand-scanned 35mm borders in stunning 4K & HD dimensions.
10 unique borders from a range of differing 35mm film rolls, hand selected for your next still or video project.
Perfect for creatives of all skill levels, simply drag and drop these borders on top of your photographs to give them the authentic 35mm feel.
Replicate the film look or simply add these borders to your existing film shots without having to invest in the expensive equipment needed to achieve this look.
Working with industry professionals, I hand selected the best film rolls on the market, scanned them in stunning 4k and digitally enhanced each file.
---
I've developed a series of amazing standalone assets, perfect for creative video projects.
• 2x Dollar swipe transitions
• Chromatic 3D barbed wire overlay
• 2x film style countdown animations
• Distressed Cinemarker overlay
• Paper texture animation

Please note, the bonus assets are only available in the pro version of the pack (HD & 4K)
---
I've created a super easy to follow tutorials explaining how to use each element of the pack in you next project.

• Simply drag & drop the elements into your timeline and you're ready to go.
• Customise with the tint effect and using different blend modes.

You can follow each tutorial in full HD allowing you to go through and learn in your own time!
---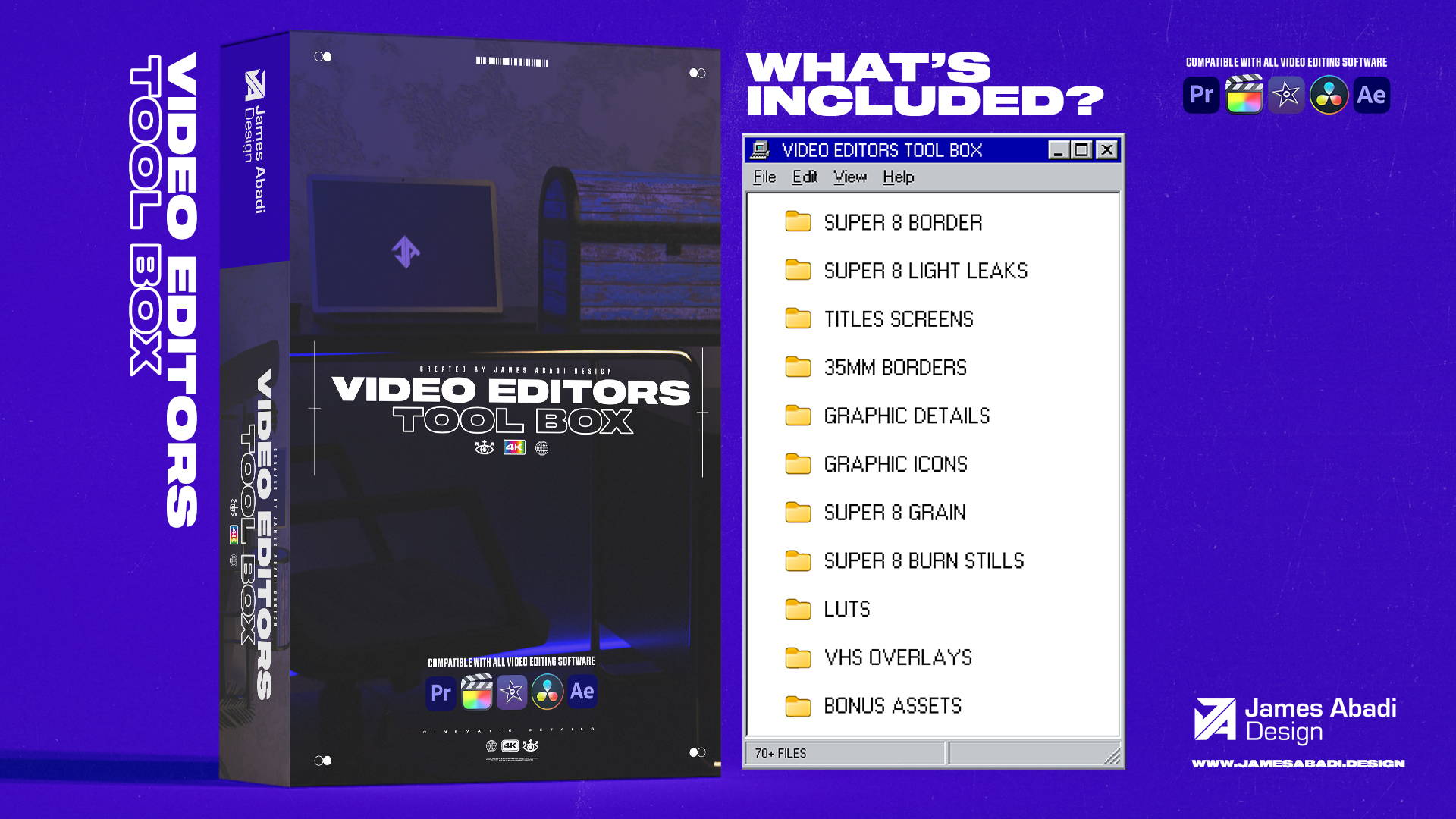 ---
Save Big...
THE MASTER BUNDLE
The All-In-One product is for the creators who want to really level up and create a masterpiece
Receive access to the entire collection now!